How to add Scroll Wars Text with eFlip Software?
Only show text for people to read is single. We can add effect for the text. Scroll Wars Text is the best way to show your text content, fashion and amazing. This tutorial will tell you how to add Scroll Wars Text with eFlip Professional.
During this process, we need to use eFlip Professional program. So firstly you should install it to your machine and run on it:
Then follow below steps:
Step1: Click "Create New" to open a new project;
Step2: Browse and open file (includes pdf, image, office, openoffice) to import;
Step3: Open design setting panel to choose template and theme;
Step4: Open "Plugins" panel to double click "scroll-wars-text" plugin;
Step5: Quickly input your scroll text in blank box and set its attribute (position, size etc);
Step6: Click "Apply" icon so you can preview its effect.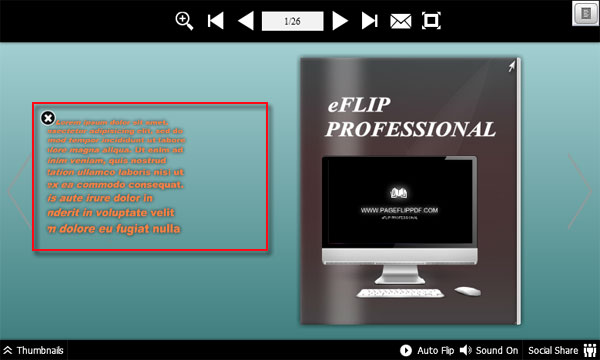 Notes: If you feel it is too difficult to set its position with percentage, you can directly drag the plugin to suitable position on Plugin Position Designer.
Download eFlip flipbook software to have a try now >>