Guide about how to manage online flipbooks
Question: I have used eFlip Professional to upload my flipbooks. But I donot know how to manage those online books. Can you give me some ideas?
Answer: There is a function call "Manage Online Books" on eFlip menu, which help you to manage and share flipbooks you uploaded to our cloud server.
Details about how to manage online flipbooks:
Firstly, press "Manage Online Books" button and sign up with your eFlip Publisher account;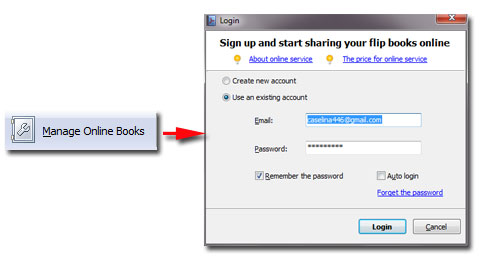 In manage online Book panel, all you uploaded books will be list in this panel. In each column of online book, you can view its status, share it to email/Facebook/Twitter and even disable read online.
1. Current status: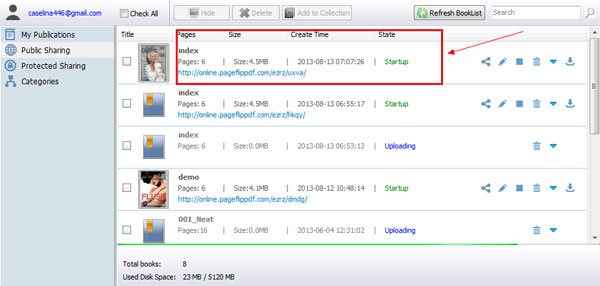 If state is uploading, that means your book upload faired.
2. Share: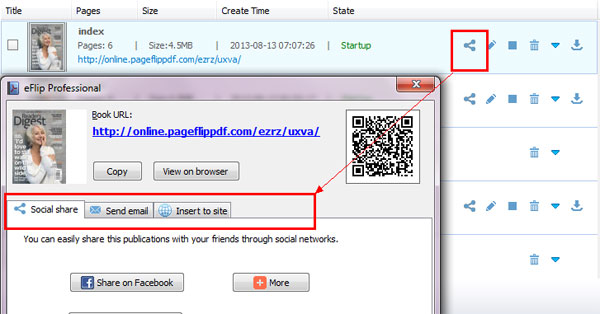 Click "Share" button and share your book link to social share/email, and even embed to your website.
3. Book Detail
Modify the html title of flipbooks.
4. Hide:
Disabled book won't be read by anybody.
Download eFlip flipbook software to have a try now >>