Free publish comic flipbooks to cloud server
Comic was deeply loved by the people of the world. And they always call comic is the Esperanto without borders. For convenient reading, we can make digital comic flipbooks instead of print comic book. You donot need to know any flash or other complex knowledge, only need eFlip Software.
eFlip Software (eFlip Standard, eFlip Professional) is conversion tool, which help to create comic flipbooks from PDF, Office, Image, OpenOffice. You can view your comic flipbook in any device, like PC, Mac, Mobile, Tablet.
Now follow below steps to learn how to make and publish comic flipbooks:
Step1: Install and Run
Free download eFlip Standard/Professional from PageFlipPDF.com and install it to your machine. Then open it;
Step2: Make Comic Flipbook
. Click "Create New" to create a new project;
. Import file and set its quality and size;
. Choose template and use the custom settings to designed flipbook background;
. Click "Apply Change" to save all settings;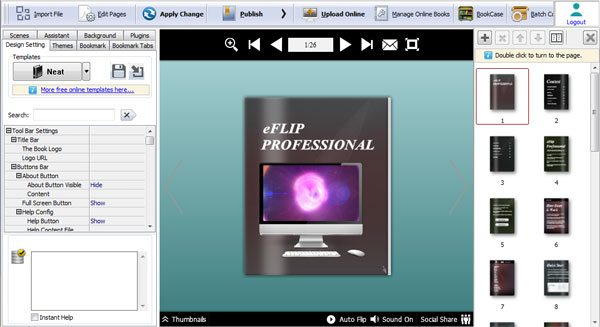 Step3: Publish book to online
. Open eFlip upload online feature and register an account to login;
. Write the HTML title of flipbook and press "Upload" icon;
. Wait for some minutes, the link of online flipbook will be produced.
Step4: Manage Online Book
. Click "Manage Online Books" in the menu and login with account;
. In the pop-up window, all online book list on the right side;
. In every online book, there are many functions: share, edit, delete etc. Find the function you want and do it easily.
Download eFlip flipbook software to have a try now >>