DIY Screen Saver with created Flipping ebook
It is a waste of electricity when you have something need to leave but still running computer. In order to save power, we can set up a Screen Saver for your computer. Screen Saver can be making from pictures, flash and flipbook. Now this tutorial will tell you how to DIY Screen Saver with created flipping ebook.
Because in this process, we need to use eFlip Professional program. So if you want to make a screen saver, you should install eFlip Professional to your machine firstly.
Step1: Launch and Import
Run on eFlip Professional program and browse and open file to import;
Step2: Create Flipping ebook
. In the left side of flipbook, there is a panel call "Design Setting"; Open it and choose template & theme;
. Enable show or hide toolbar button;
. Use Page Editor to add media, such as link, image, button, video etc;
. Click "Apply Change";
Step3: DIY Screen Saver
. Click "Publish->Screen Saver" button;
. Name for the screen saver, here we call it "flipbook";
. Create and install this screen saver to your desktop;
Step4: How to view it?
. Right-click on desktop and press on "Personalize";
. Click "Screen Saver" in the lower right corner;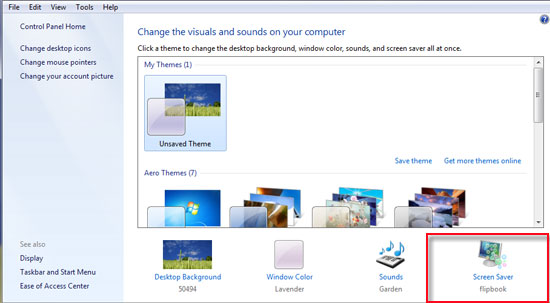 . In the pop-up dialog, all screen saver store in list option. Choose your screen saver and preview it and click "OK" to apply;
Download eFlip flipbook software to have a try now >>