Define HTML Meta Tag of Flash Catalogue for SEO
Through setting the HTML Meta tag of Flash Catalogue, we can get more potential readers from search engine. HTML Meta settings include title, keywords and description. For SEO, you should choose suitable keywords and title for your flipbook.
How we can define the HTML Meta while convert PDF to Flipbook? Learn this tutorial you can find the best solution.
Step1: Launch
Install eFlip Standard to your machine and launch it;
Step2: Import
. Create a new project by clicking "Create New" button;
. Import file (pdf, office, openoffice, image) and set its quality;
. Click "Import Now";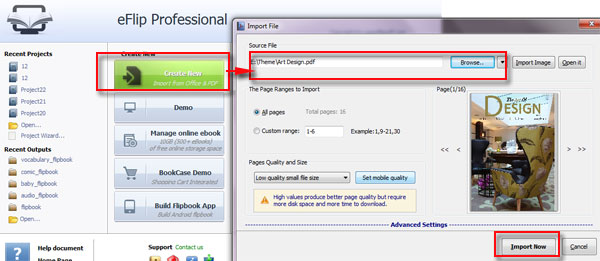 Step3: Make Flash Catalogue
. Choose one of the templates in My Template or online template;
. Apply pre-designed theme/scene to design the background of flipbook, or custom your own theme/scene with image or pure color;
. After all settings, click "Apply Change";
Step4: Define HTML Meta and publish
. Click "Publish -> Flash/HTML5" in the menu;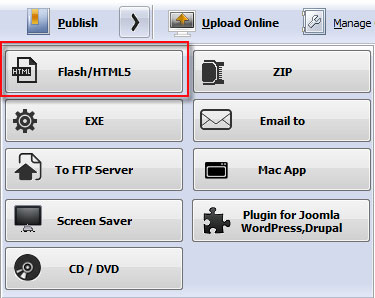 . Select the output file path and name the folder as you like;
. In this panel, you can find there is an "Advanced" button. Open it and then you can define HTML Meta (title, keywords, description);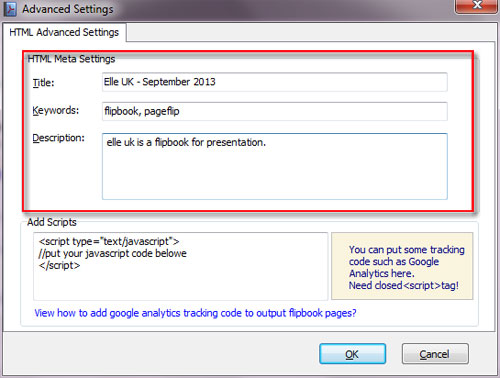 . And then, click "Convert" button to make Flash catalogue for SEO;
Download eFlip flipbook software to have a try now >>