Can I custom flipbook from images files?
eFlip Standard/Professional is not only help for creating flipbook, but also custom flipbook from images, color, music. This tutorial list many ways for you to custom flipbook, and details steps to tell you how to bring the effect for your flipbook.
There are some ways to custom flipbook:
1. Flipbook Background: Add images as the background of flipbook, no matter static image or lively swf;
2. Flipbook button: Define the color of toolbar button, colorful or professional;
3. Others: Add music file to flipbook, for people relax reading.
To custom flipbook with image, color, music, we should firstly download and install eFlip Software (eFlip Standard/Professional).
And then follow below steps:
Step1: Import File to software and select template;
Step2: Open Toolbar setting panel in the left side;
Step3: Add Image
Click "Flash Display Settings->Background->Background File" to add image or swf;
Step4: Set button color
.Click "Tool Bar Settings->Button Icons" to define icon color;
.Click "Flash Display Settings->Bar Color" to define bar color;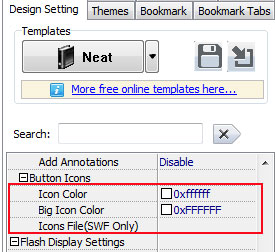 Step5: Background music
Click "Tool Bar Settings->Sound->Sound File" to add your music and then enable show sound button to flipbook;
Step6: Click "Apply Change" to show all effect, views the screenshot: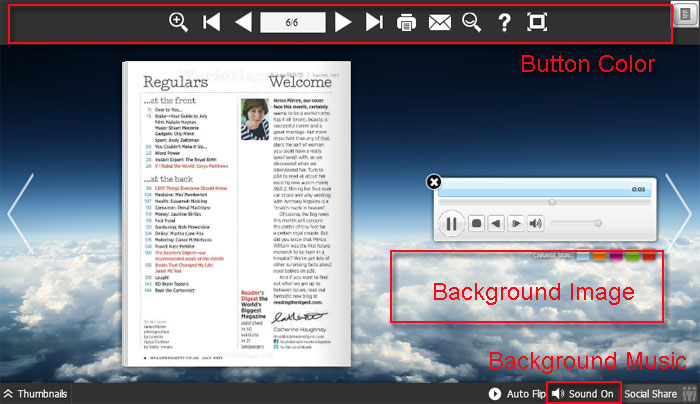 Download eFlip flipbook software to have a try now >>